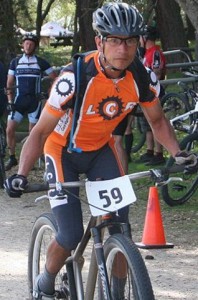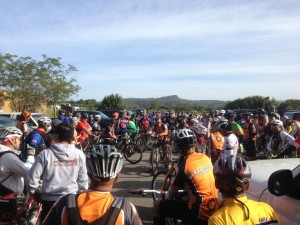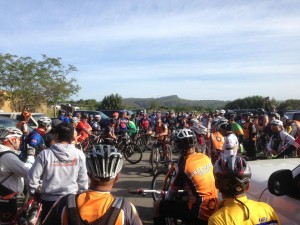 This is not a typical blog post about a health topic or a race course that I have recently participated in. This is a desperate situation for a friend who is fighting for his life and to this day is in coma. Please read to the end of this blog post.
More than 100 Mountain bikers came together this past Saturday at Anthony Chabot Regional Park in support of a fellow biker, Jerry Javier and his family.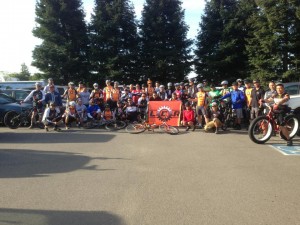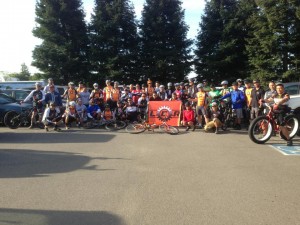 Jerry was training for the Sea Otter Classic mountain bike race when he suffered a very severe head injury on 04/07/2013, after taking a hard fall and hitting his head .  The course was challenging and rough but nothing Jerry had not ridden before.  Although he was wearing a helmet, it was not enough to protect him.  He lost consciousness immediately after the crash and had to be Air Lifted by a Helicopter to San Jose Medical Regional Center.  To this day he remains in a coma. The doctors say they "are hopeful" that he will wake up, but only time will tell.  As of yesterday's MRI we have learned that Jerry was diagnosed with DAI(diffuse axonal injury), the prognosis is unpredictable, he may wake up in a few days, weeks or months. We just have to hope and pray for the best.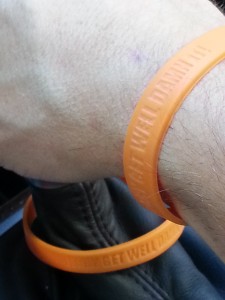 So Lake Chabot Riders (LCR) mountain bike club organized a "vibe ride" and fundraiser/auction to help support Jerry's increasing hospital bills and his family's needs.  Numerous bikers around the area came together as a family to help support a fellow biker in need.  These kinds of accidents hit close to the heart because it could be any one of us that crash and end up unfortunately  like Jerry.  The bikers all came together for a 20 mile ride to "send" their strength and positive vibes to Jerry while he is in the hospital.  It was such an awesome experience to feel so much positive energy all focused on healing Jerry.
After the ride an auction took place which consisted of donations given from various bike shops including Endless Cycles right here in Castro Valley.  LCR was also selling a "get well Jerry" bracelet for $5 which are available for purchase.  The total amount of donations received at the event was around $2500 which will help out, but there is so much more money needed in support of Jerry and his family.
If you'd like to make a donation Jerry Javier Recovery Fund, please check a fund raiser link: Jerry Javier Recover Fund .
Thank you for supporting Jerry Javier Recovery Fund. He will ride again!!!