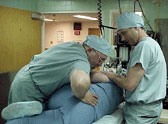 There are thousands of people in the United States and Abroad who suffer from a chronic pain daily. They are tired of taking pain medications and yet they are not surgical candidates, or still have pain after the surgery that have already had. The good news for all those patients who suffer from pain and lack of mobility is that there is a non surgical solution to this problem. It is a simple and painless procedure that is offering a pain relief and restores range of motion. Manipulation Under Anesthesia also known as MUA is the solution to the problems to many neck, low back and shoulder chronic pain sufferers.
MUA is the procedure where manipulation of the spine or shoulder is performed in a surgical center under sedation. This procedure is one of the most effective methods of altering chronic pain conditions where chiropractors work together with medical doctors in order to achieve the best results possible. The techniques used in manipulation under anesthesia (MUA) have been described as low-velocity/high-amplitude in contrast to the usual chiropractic adjustment which is most commonly described as a high-velocity/low-amplitude thrust or "impulse." The purpose of high-velocity technique is to overcome the conscious patient's protective reflex mechanism which would prevent the separation and movement of the joints. In a joint manipulation, the articulation is moved through its entire passive range of motion and past the elastic barrier and into the paraphysiological space where joint cavitation occurs. Cavitation of the joint is an audible "report" signifying that the articulation has been distracted sufficiently to affect the physiology and function of that synovial joint.
Manipulation Under Anesthesia has been recognized and used in the manual therapy arena for over sixty years. It is a great procedure for those who do not respond to a traditional care or invasive surgical procedure.The MUA procedure continues to gain widespread support and recognition in the medical community and is helping to bring much-needed relief to a grater patient base than ever before.
A Doctor of Chiropractic with post graduate degree – Manipulation Under Anesthesia Certified with Hospital privileges would be a chiropractor who would perform this procedure. It is a rule that two chiropractors perform MUA procedure. First one is a primary doctor and the second one is an assistant. The reason why you need an assistant is because patient is unconscious and the assistant is supporting the body on one side while the other chiropractor is performing a manipulation and stretches. Then they switch sides. Manipulation Under Anesthesia is not only safe, but also highly successful in treating acute and chronic musculoskeletal conditions.
Who Is The Best Candidate for MUA?
Patients who have received conservative care for 6-8 weeks for their neck, mid-back, lower back and shoulder with very limited improvement in symptoms or findings. Also patients who still have pain after the surgery would also be the candidates for this procedure. Common indications for Manipulation Under Anesthesia include neck, middle and lower back pain, chronic muscle pain and inflammation, acute and chronic muscle pain and inflammation, acute and chronic muscle spasm, chronic fibrositis, nerve entrapment, disk pathology including herniated disks, torticollis and failed back surgery.
What is Manipulation Under Anesthesia Procedure Like?
MUA procedure is an ongoing process for three consecutive days. During these three days the patient is being treated in a surgery center under supervision on Board Certified Anesthesiologist and two Board Certified Chiropractors where spinal manipulative therapy and stretches are performed. After the procedure, treatment continues as strengthening and stabilization programs are initiated over the next few weeks in a chiropractic office. Post-Procedure care is a vital part of the MUA procedure. Follow-up visits with a Chiropractic Physicians are important at this time as the stretches accomplished during the MUA procedure are built upon, helping the patient to regain strength and prevent future pain and discomfort.
What Are The Effects of Manipulation Under Anesthesia Procedure?
The proposed effects of therapy include the following:
Breaking up scar tissue (adhesions) both in and around the spinal joints, commonly caused by multiple injuries or failed back surgery.
A decreasing chronic muscle spasm
Overcoming super-sensitivity of injured areas, making the patient unable to cooperate for effective treatment
Stretching persistent shortened muscles, ligaments and tendons
Relief from pain and radiating symptoms caused by damaged invertebral discs.
Most importantly however, Manipulation Under Anesthesia affords patients immediate relief and noticeable difference in their daily lives post-procedure. These positive results only continue to improve with time and post-MUA therapy.
Am I a Candidate for MUA?
Medical screening is an absolute necessity for each patient who is planning to get an MUA. Medical history and physical examination and where indicated, CBC blood studies, chest X-Rays, EKG's and other diagnostic tests such as MRI or CT's. Feel free to CONTACT us at our primary San Leandro Chiropractic Clinic at (510) 481-BACK (2225) and we will be more than happy to answer any of your questions.
Sincerely, Dr. Eduard Burt, D.C., MUAC  a.k.a Doctor of Chiropractic, Manipulation Under Anesthesia Certified.