Thoracic Outlet Syndrome treatment techniques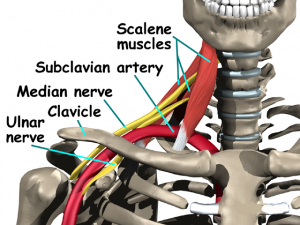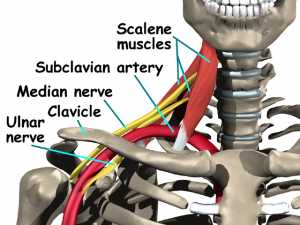 There are different treatment methods available for thoracic outlet syndrome such as exercises, treatment therapy and even surgery.  There are other non-conventional treatments available too, such as the Chinese acupuncture.
Chinese acupuncture needles
The Chinese acupuncture technique uses microcurrent device that are polarized at 50 to 75 microamperes, and zimmer pads. It uses point combination in treatment of TOS. PC6, SI3, ST41 and Liv4 are point combinations used.
The treatment takes 4 weeks with 2 to 3 sessions each week. The acupuncturist would insert the acupuncture needles subcutaneously and place stimulation pads (microcurrent) on top of each of the needles.
The polarized acutron mentor pads are applied on top of the needles directly. It has a positive and negative pad; the positive pad's applied on the scalene muscle insertion (anterior) and the negative pad on the PC6 or the SI3. The electric stimulation usually cannot be felt by the patient as the microcurrent is sub-sensational. Some patients are more sensitive though and they can feel a tingling or vibrating sensation on the area but it's quite subtle.
After 8 treatments, patients notice some improvement. The pain and burning or tingling sensation is minimized and the patient's requirement for pain medication is also decreased or even stopped. Daily activities that require strength on the upper extremities are easily performed compared before the patient had the treatment.
With acupuncture therapy, the patient is still required to do some stretching exercises at home. These exercises are targeted on improving and recovery of the scalene muscles and tendons. It should be performed 3 times a day with at least 5 repetitions each time. Posture should also be improved to gain the proper biomechanics of the body.
Home exercises
A treatment plan for thoracic outlet syndrome or TOS requires a home exercise program to increase the speed of recovery. These exercises must be performed carefully and slowly. Each stretch position must be done to a point that you stretch without experiencing pain. Once you feel pain that means it's too much and the patient must decrease the length of the stretch to a point that it is still painless. As you progress, you can extend the length of the stretch with pain as an indicator of your limit.
Corner stretch, neck stretch, shoulder rolls, thoracic extension, and overhead raise are just some of the home exercises prescribed by the medical professional to be exercised by the patient suffering from TOS.
Chiropractic Approach
Proper treatment of thoracic outlet requires an accurate understanding of the postural factors involved. Most recent treatment programs consider evaluation of joint mobility and muscular imbalance.
Once diagnosis of thoracic outlet syndrome is made by a Doctor of Chiropractic, a specific treatment program is designed for the patient.
More specifically, chiropractic management will focus on joint mobility in the cervical (neck) and thoracic (upper back) regions of the spine. Frequently, patients with thoracic outlet will have joint tightness in these areas which is treated with spinal manipulative therapy, stretching and rehabilitation in the office.
Keep in mind; there are other conditions that may cause similar symptoms. In either case, if you are currently suffering from similar symptoms, be sure to consult your chiropractor.
A chiropractic doctor might also advice you exercise routines and they may even prescribe you with their own exercise programs. Make sure you consult with the doctor before doing any of the home exercises to make sure that what you're doing is actually going to improve and not worsen your condition.
The home exercises treatment technique combined with a proper treatment therapy from a medical professional is the best way to increase the speed of recovery and to diminish the pain suffered by TOS patients.
If you have any additional information, please write about it in our comment section.