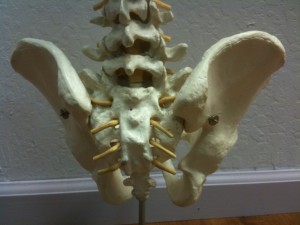 Last month I had two patients who came to my clinic because they thought they had sciatica pain. One of the patients has self diagnosed himself and the other patient was diagnosed by a medical doctor. Both of these patients had excruciating pain in their lower back, which radiated down to a lower extremity. It is very common that many patients will wait for their pain to go away with rest, anti-inflammatory and pain medication. As a result, pain symptoms will get worse and get to the point where pain medications will stop working.
The first patient was a male in his early 60's. He came to my clinic on his crutches. The pain level was so intense that he was not able to support his upper body. The pain would shoot all the way down his right lower extremity past the knee level but did not effect his toes.  After thorough examination it was evident that his right SI (sacroiliac joint) was about 2 inches lower than the left SI joint. All of the nerves that were exiting from sacral foraminas (openings) were very irritated and inflamed. Every time this gentleman would place a load on his legs he would cry and I could see tears of pain on his face. After three sessions of full spine chiropractic adjustment, physical therapy (moist heat and electrical stimulation) and deep tissue massage from my CMT (Certified Massage Therapist) he was completely free of pain. I have recommended him to stop by once or twice a month for maintenance care in order to avoid future flare up and pain.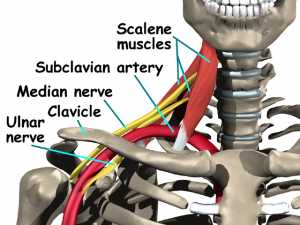 Today's post is about real case that have treated on Friday. I saw this patient over a year ago for severe neck pain and headaches. Patient's problem was resolved with very good results. This morning patient's husband calls and asks me to see his wife today as an emergency visit because she has numbness in her left upper extremity, loss of temperature in that extremity, and shooting pain. Over the phone he explained to me what has happened couple of days ago.
He took his wife to a near by Hospital Emergency Room suspecting that she had a heart attack. She had severe shooting pain in her left upper chest and shooting pain down her arm. In a Hospital medical Doctors performed a complete check up, including laboratory test and fancy CT- Scan diagnostic. After numerous hours they found nothing wrong with his wife and discharge her home with some pain medications. She was not very happy with an outcome since the symptoms were still there even with pain medications.