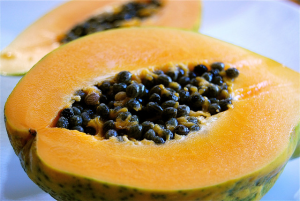 Called as  a "fruit of the angels"
Papaya
with its appealing appearance of musky undertones and light colored texture is tastefully sweet was once considered as an exotic fruit but is now found everywhere in the world throughout the year. Though, the season of fall and summer produces the most papaya.
Pear-shaped and spherical, a this fruit can grow as long as 20 inches with the normal size on the market measuring an average of 7 inches and weighs 1-2 pounds. The inner flesh an orange color with pink and yellow hues. The inner cavity of the fruit is color black with round shaped seeds rooted in a gelatin-like form. Its seeds are edible but tastes a bit bitter on the mouth. The papaya also contains
papain
, a type of enzyme that helps greatly in digesting proteins. The papain is heavily concentrated inside the fruit when it is still on the unripe stages. The Papain is also extracted to create digestive enzyme dietary supplements and is one of the main ingredients in making bubble gums.