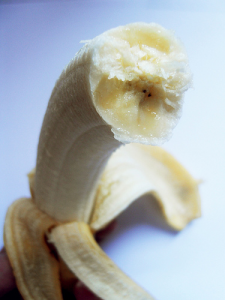 Bananas are among the healthiest fruit in the world today. It contains three natural sugars; fructose, glucose and sucrose combined with fiber. This fruit is the popular choice among active individuals as it provides a sustained, long lasting energy boost to last the day. Studies have shown that eating a medium sized banana can provide enough energy to help you last through a daunting 90 minute workout. No wonder that this fruit has become the staple energy food among the world's best conditioned athletes.
Providing energy boost isn't the only way it helps the body. It is also a leading combatant of a number of conditions and illnesses making it an important to include banana as part of our everyday meals. It contains
tryptophan
, a type of protein that the body converts into
serotonin
, a chemical compound that improves the mood of an individual by making it prone to relaxation generally making the individual feel happier and light.