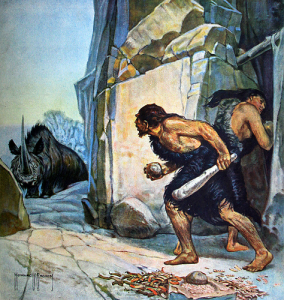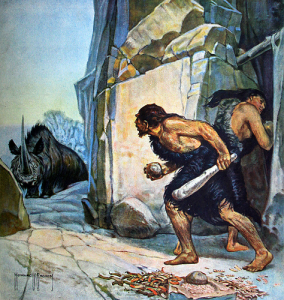 I have never been a big fan of any special diet. My health philosophy is simple – eat the same or less amount of calories that your body needs, regular exercises at least 3 times a week (cardio a must) and an adequate amount of rest (sleep is your weapon). Diets are just like fashions – the come and they go. They will arrive to our lives with a new twist, so people who promote them can sell the followers new books, recipes of the same meals with different names and so on. No matter how you look at the food and a new "super diet" at the end it all fall to three main ingredients: carbohydrates, fats and proteins. It is just a matter of combining the ingredients together in different proportions which provides a great variety of choices for a creation of a new diet.
The reason why I began to write this post is because I see so many disgusting photos of so to speak Paleo diet on Google Plus stream that people actually put it inside of their mouth and call it a healthy meal. Personally my eyes can not even look some of the photos. If I would have to eat that meal, all of my vital organ would have to shut down slowly one after another. I think fashion diet just overtakes normal common sense in every follower. Many want to look and feel good but lack the basic understanding of the physiology of a human body and nutrition. The Paleo diet was popularized by Walter Voegtlin in the 1970's and is very similar to Atkins and Meat Lovers diets – which were very popular about 10 years ago or so.
Paleo is a short term for Paleolithic – which means "old stone age." So basically this means that we are going to be talking about a cave man diet and its interpretation in a modern world by the followers. Caveman did not have access to McDonald, Burger Kings, KFC and other fast food restaurants. They would hunt for a fresh meat and collect food that they found. In theory this kind of lifestyle was keeping them very healthy – free of disease such as cancer, arthritis, osteoporosis and cardiovascular conditions. In theory it appears like a great way to live your life and stay healthy for years to come. However, in modern day society hunting and plant based food gathering is not practical unless one has a really good trust fund in his/her name.
It was not until 2005 that the Paleo Diet came into its own, with the publication of Loren Cordain's The Paleo Diet for Athletes: A Nutritional Formula for Peak Athletic Performance. With athletes beginning to endorse the diet, it gained momentum, hitting the big time in 2010, with the publication of Cordain's next book, The Paleo Diet and Rob Wolf's book, The Paleo Solution. This is just a small paragraph about the promotional history of the diet.
Modern cave man diet is not supposed to have sugar or salt added to it which is a good thing. However, 65% of the diet is based on meat eating and 35% is based on plant based nutrition. Most of the people who follow the diet buy the meat at the local supermarkets because of an easy access and the cost. Not too many people can afford to buy meat that has been hunted in a wild or grass fed. Meat purchased at the local stores has some serious bonus features added to it – growth hormones, antibiotics, high pesticide concentrations, heavy metals toxicity from over 100,000 manmade chemicals now found in the environment, Strontium, high levels of omega-6 fatty acids as a result of being grain fed. As for fish, even if you catch it yourself, you're now looking at mercury contamination, dioxin, and sex altering hormones — things Paleo fishermen never had to deal with.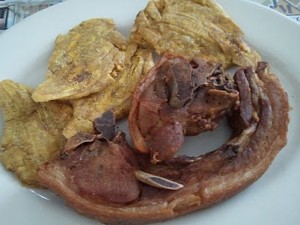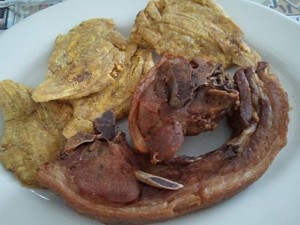 Let's talk about confused followers that I see posting the photos of their meals on Google Plus stream and stating that this meal is healthy. Please do let me know what you think about this photo. I was attacked on this thread by some Paleo followers and felt like being in some sort of religious cult versus intelligent discussion. I will not reveal the full names or photos of people in this thread. I was the one who posted a first response when I first saw it on my Google Plus stream. For your information I did not even know what Paleo diet was when I first saw the photo. So, I have done my research before publishing and there is a lot more that can be discussed but this post is already too long.
Eduard Burt  –  Deduct at least 10 years from your life if you continue eating this. Sorry, but I just can't help it being silenced about it.
Sep 29, 2011 
 Jose J.M.  –  +Eduard Burt why do you think that?
Sep 29, 2011   
Matthew G.  –  +Eduard Burt, those are the bedpan and diaper years. You can keep those.
Sep 29, 2011   
Jamie F.  –  If only science agreed with you, Eduard. There's no evidence to link meat and fat with any disease.
Sep 29, 2011   
Eduard Burt  –  I guess I expressed my opinion at the wrong channel. Sorry for being correct.
Sep 29, 2011 
Matthew G.  –  You haven't proven yourself to be correct, +Eduard Burt. Evidence or GTFO!
Sep 29, 2011   
Scott G.  –  What's it fried in?
Sep 29, 2011   
Kevin G.  –  +Eduard Burt I'm not sure what problem you're discussing? Saturated fats, maybe? You do realize a lot of those concerns have been debunked after longitudinal studies were conducted, right? (see: Framingham Study). Also that the original study (Ansel, I believe) connecting fats with heart disease studied TWENTY-TWO countries but only published the six that fit the hypothesis? 
Please address you concerns more specifically, please! 
Eduard Burt  –  http://www.mountsinai.org/about-us/newsroom/press-releases/study-shows-that-reducing-processed-and-fried-food-intake-lowers-related-health-risks-and-restores-bodys-defenses
Sep 29, 2011  –     
Eduard Burt  –  Let's ask +Jose J.J. ? How did you feel after eating this meal? 1. Healthy 2. Bloated 3. Heartburn 4. Do not know, I just like fried stuff. 5. I don't care 
By the way what is the yellow fried portion of the meal?
Sep 29, 2011  –  
 Kevin G.  –  Thank you! So you're talking about frying food vs. stewing or poaching — or eating more "raw" or at least less-cooked/less-processed foods. Of course, the study is only about that. Reduction in wheat is also anti-inflammatory, so removing gluten from your diet can also offsite frying/overcooking of foods. However, you're correct that less cooking is probably better health-wise. Then again, stating that a fried/grilled meal WITHOUT gluten will take 10 years off your life may be wrong. There's a counterbalance there.
Sep 29, 2011   
Eduard Burt  –  +Kevin G. fried and grilled are two different cooking processes. Second one is better depending on what kind grilling you do.
Sep 29, 2011     
Kevin G.  –  Oh… just so you know where I'm coming from: I went off grains to see if it would combat the SERIOUS acid reflux that was keeping me awake at nights. It did. Then I noticed my asthma was clearing up as well, so in consultation with my doctor I eventually went off both grains and my 30-year need for asthma medication (and dropped 30 pounds and improved my cardiovascular function). Then again, I eat lots of meat, vegetables, dairy and greens with very little fried food. I'm definitely not a meat-centric person. 
You're right about grilling — I typically mean outdoor grilling which tends to create char which can carcinogenic in nature (but so, so very tasty).
Expand this comment »
Sep 29, 2011   
Eduard Burt  –  Thanks +Kevin G. for a real life change experience. I deal with this diet addiction at my clinic with many patients. I most deal with injuries, but the healing process can not be completed if your diet is bad and your face is inflamed all the time. That means that everything else is inflamed as well inside – thus is the reason for a constant pain. +Jose J.J. let the rest of us know how you felt after that meal.
Sep 29, 2011  – 
Jose J.J.  –  +Eduard Burt I felt excellent. The same way I've been feeling since going paleo about a year ago. The pork chop in the picture has the skin attached. You may call it bacon if you like. The yellow 'things' are called tostones which are fried green plantains. Everything was deep fried in pork fat. By the way, during the year I have been doing paleo I have lost 90 pounds, got rid of a couple of skin rashes, got rid of inflammation, the metabolic syndrome is gone (high blood pressure, high blood sugar, high blood lipids, headaches, migraines, heartburn, diarrhea followed by occasional constipation and sleep apnea). Yes, I had all those. I made a decision and have never looked back. So, you can have your standard diet and your conventional wisdom. Because I have been feeling wonderfully, full of energy and enjoying life I will keep eating my paleo diet and living the paleo lifestyle.
PS, I own 3 pairs of VFF's and enjoy going barefoot as much as I can. Also (and this may be a problem for you too) I enjoy sunbathing a lot since I know my needs for vitamin D.
If you want to understand more about this lifestyle you can read +Robb Wolf 's excellent book "The Paleo Solution". I highly recommend it. It may even change your life and gain you ten more years. You can also read several blogs like +David Csonka 's, +steve cooksey 's or Mark's Daily Apple which are excellent.
Expand this comment »
Sep 29, 2011    +4   
Eduard Burt  –  I am glad @Jose that this diet is working out for you and for many other supporters on this topic of the conversation.
On a final note if I would have eaten this meal all my vital organs would shut down one after another. I guess this diet is just like sport requires some endurance for a digestive system.
Sep 29, 2011  –   
Rachel B.  –  Never had a plantain, can't find pork chops like that around here. Looks really good.
Sep 30, 2011   
Jose J.J.  –  +Rachel B. ask your butcher to leave the bacon attached to the pork chop. It's very flavorful and the skin become a crackling.
Sep 30, 2011    +1   
Jose J.J. –  +Eduard Burt You probably are having some type of wheat in your diet. If you want to start feeling better all the time, including the after meal moments, no matter how large your portions or how much animal fat is in them consider trying a Whole 30:
It can change your life too.
Sep 30, 2011    +1  
Eduard Burt  –  +Jose J.J I feel like an 18 year old. My diet is great. Nothing personal but I am just collecting an independent opinion. That is all.
Sep 30, 2011  –  
Jose J.J.  –  +Eduard Burt Are you a vegetarian? Otherwise, if you eat meat how can you explain your statement – "On a final note if I would have eaten this meal all my vital organs would shut down one after another. I guess this diet is just like sport requires some endurance for a digestive system." Is it the animal fat in the meal? Your thoughts…
Sep 30, 2011   
Eduard Burt  –  I eat chicken, turkey, fish, on occasion lamb or goat. To answer your question – I am not a vegetarian.
 If you have anything to add to this post, please feel free to Post a comment or share your thoughts through Facebook, Twitter, Google+ or comment section below to join the conversation.