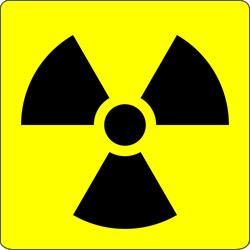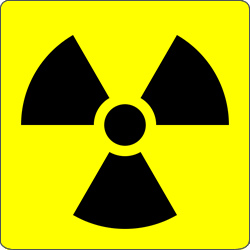 I have personally experienced world's first nuclear plant explosion in 1986 in Chernobyl. My family and myself only lived about 350 miles away from the explosion. It was not far enough in order to escape the deadly invisible rays.  Our town, Mogilev-Podolsky, got its share of radiation. The wind was blowing the toxic material towards Eastern Europe That happened 25 years ago and people continue die of cancer to this day. This was a man made catastrophe.
Last week Earthquake and Tsunami in Japan damaged Fukushima Daiichi nuclear plant. Japan just like Ukraine is a very densely populated country. It appears that Japanese firefighter, engineers, and military personal have it under control and I do pray and hope that they will be able to stabilize all of the reactors and fix the situation before things get out of control.
The information below is from Reuters Health Information
Radiation is measured using the unit sievert, which quantifies the amount of radiation absorbed by human tissues.
Below are some facts about the health dangers posed by higher radiation levels:
– Japan's Chief Cabinet Secretary Yukio Edano had at one point said radiation levels near the stricken plant on the northeast coast reached as high as 400 millisieverts (mSv) an hour. That figure would be would be 20 times the annual exposure for some nuclear-industry employees and uranium miners.
– People are exposed to natural radiation of 2-3 mSv a year.
– In a CT scan, the organ being studied typically receives a radiation dose of 15 mSv in an adult to 30 mSv in a newborn infant.
– A typical chest X-ray involves exposure of about 0.02 mSv, while a dental one can be 0.01 mSv.
– Exposure to 100 mSv a year is the lowest level at which any increase in cancer risk is clearly evident. A cumulative 1,000 mSv (1 sievert) would probably cause a fatal cancer many years later in five out of every 100 persons exposed to it.
– There is evidence linking an accumulated dose of 90 mSv from two or three CT scans with an increased risk of cancer. The evidence is reasonably convincing for adults and very convincing for children.
– Large doses of radiation or acute radiation exposure destroy the central nervous system and the red and white blood cells, leaving the victim unable to fight off infections. For example, a one sievert dose (1,000 mSv) causes radiation sickness such as nausea, vomiting, hemorrhaging, but not death. A single dose of 5 sieverts would kill about half of those exposed to it within a month.
– Exposure to 350 mSv was the criterion for relocating people after the Chernobyl accident, according to the World Nuclear Association.
"Very acute radiation, like that which happened in Chernobyl and to the Japanese workers at the nuclear power station, is unlikely for the population," said Lam Ching-wan, a chemical pathologist at the University of Hong Kong.
Sources: the New England Journal of Medicine, World Nuclear Association and Taiwan's Atomic Energy Council
This information about radioactive materials came from GE Power & Water
1. Every operating reactor in the world has some amount of transuranics (i.e., elements with more protons than Uranium), including Plutonium, just due to the fissioning process.  2. Plutonium is NOT that much more dangerous than the other fuels and fission products from a radioactive perspective.  And in fact, the half-lives of the Uranium isotopes are much longer [U-235: 704,000,000 years; U-238: 4,470,000,000 years; Pu-239: 24,100 years].  Plutonium is a bad actor for two reasons: 1. It's toxic from a chemical perspective; and 2. It has a better "yield" from a neutronics perspective, so it makes a better bomb (but the amount of fissionable material U-235 and Pu-239 is less than 6% in a nuke plant, whereas a bomb needs >70% (? I'm not a bomb maker, but I know it's way up there), so no "nuclear boom" is possible in a nuclear power plant, only a hydrogen boom – that's another story).  Also, like many radioactive materials, you don't want to inhale it because it's an alpha emitter.  (An Alpha particle can be stopped by a piece of paper, but can damage lung tissue over time leading to lung cancer in 10-15 years.)  From a human health perspective, there are much worse elements/isotopes, I-131 being one, because of where they go in the body (Iodine collects in the thyroid) and how intense their radioactive decay is.  (An isotope with a long half-life doesn't emit radiation as fast as an isotope with a short half-life – right?)
To your real question…  The fuel used in some reactors (I'm not sure which ones) is known as MOX (mixed oxide) fuel because it contains the fissionable materials U-235 and Pu-239 in the form of UO2 and PuO2 (maybe others – not my area of expertise).  I believe, but have to find out the real answer, that the reason MOX fuel is used is because 1. It's more efficient from a fissioning standpoint, which makes it 2. Actually safer because the percentage of fissionable material can be less! And 3. There's no real hazard because the Plutonium is contained in the fuel matrix which is a ceramic (like your coffee cup).  The radiation being detected in Japan and in extremely trace amounts elsewhere is from the fission by-products, like I-131, Cs-137, and Xe-133, to name a few.  Uranium and Plutonium don't emit much radiation because of their extremely long half-lives.
Now to blow your mind!  GE Hitachi is developing a reactor that would be fueled by spent fuel rods (which of course is a misnomer) and would more effectively "burn" the transuranics, i.e., reduce their concentration, during the fissioning process.  So rather than storing or reprocessing spent nuclear fuel, we'd be recycling it…  Cool, eh?
Nuclear Plants in California – Should we be worried?
Operating nuclear power plants in California are Diablo Canyon, near San Luis Obispo, and San Onofre, about midway between Los Angeles and San Diego. Nuclear units at both plants use ocean water for cooling.
Pacific Gas and Electric Company (PG&E) owns the Diablo Canyon Nuclear Power Plant, which consists of two units. Unit 1 is a 1,073 megawatt (MW) PWR which began commercial operation in May 1985, while Unit 2 is a 1,087 MW PWR which began commercial operation in March 1986.
Southern California Edison Co. and San Diego Gas & Electric own the two operating units at the San Onofre Nuclear Generating Station. Unit 2 is a 1,070 MW PWR that began commercial operation in August 1983, while Unit 3 is a 1,080 MW PWR that began commercial operation in April 1984.
California also has four commercial nuclear power plants and an experimental plant that are no longer in operation. These include:
The Santa Susana Sodium Reactor Experimental (SRE) was a small sodium-cooled experimental reactor built by Southern California Edison and Atomics International at the Santa Susana Field Laboratory, near Moorpark in Ventura County. It came on line in April 1957, began feeding electricity to the grid on July 12, 1957, and closed February 1964. This reactor used sodium rather than water as a coolant and produced a maximum of about 7.5 to 20 megawatts (electric). It was considered as the country's first civilian nuclear plant and the first "commmercial" nuclear power plant to provide electricity to the public by powering the near-by city of Moorpark in 1957. On July 26, 1959, the SRE suffered a partial core meltdown. Ten of 43 fuel assemblies were damaged due to lack of heat transfer and radioactive contamination was released. The plant has subsequently been dismantled. For more, please visit the U.S. Dept. of Energy's website.
The Vallecitos Nuclear Power Plant near Pleasanton, Calif., was jointly built by PG&E and General Electric Company and operated from 1957 to 1967. This was a small, 30 megawatt power plant. On October 19, 1957, Vallecitos connected to the electrical grid and became the first privately funded plant to supply power in megawatt amounts to the electric utility grid. The plant was shut down in December 1967. The plant is in SAFSTOR and there are no plans for any significant dismantlement in the foreseeable future. All nuclear fuel has been removed from the site.
The 63 MW Boiling Water Reactor at the Humboldt Bay Nuclear Power Plant in Eureka was in operation by PG&E from August 1963 to July 1976. It was the seventh licensed nuclear plant in the United States. It was closed because the economics of a required seismic retrofit could not be justified following a moderate earthquake from a previously unknown fault just off the coast. It was permanently shut down July 2, 1976, and retired in 1985. The plant was then placed in SAFSTOR (with spent nuclear fuel rods stored in water pools on site) until anticipated full decommissioning in 2015. See more on SAFSTOR below.
The 913 MW Pressurized Water Reactor at the Rancho Seco Nuclear Power Plant, located about 25 miles south of Sacramento, is owned by the Sacramento Municipal Utility District in and was operation from April 1975 to June 7, 1989. It was closed by public referendum.
The 436 MW San Onofre Unit 1 Pressurized Water Reactor was in operation from January 1968 to November 30, 1992. It was closed by its owners rather than incur $125 million in required modifications.

What is your opinion about safety of Nuclear Plants in California and all over the World?