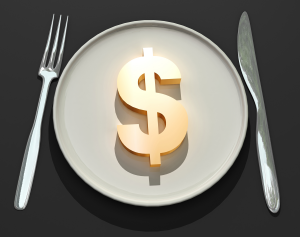 The diet and weight loss industry makes an estimated $20 billion a year in the US alone and although obesity is a rising problem across the globe and weight loss is encouraged, some of these weight loss trends can be harmful to your wallet. Society equates being overweight with being worthless, and with the latest obesity statistics being paraded across our television screens, laptops and newspapers, it's no wonder that millions of people worldwide are turning to fads and drastic new methods of weight loss.
Among the frontrunners for some of the most costly diet fads around today are the South Beach and the Dukan diet. The South Beach diet involves exclusively eating foods with a low Glycemic Index (GI). Low-GI foods affect your blood sugar levels less than high-GI foods, thus keeping you fuller for longer and deterring overeating and snacking – two considerable causes of weight gain. In this diet, portion size doesn't matter, however each meal on average will set you back $4.59, or $3340 a year. Similarly, the Dukan diet can cost you around $4.34 a meal, which adds up to $3,159 – not including subscription fees. This controversial, low carbohydrate diet consists of four phases; the first is strictly protein consumption and is designed to go on for no longer than seven days. The following phases then start to include carbs into the diet, starting with non-starchy vegetables and later starchy foods, like grain bread.
Both of these diets involve large amounts of protein, such as lean meat, and this tends to be quite expensive. Unlike carbs, which you can often buy in bulk for low prices, two quality chicken breasts can cost over £5 in the UK ($8.34). If you're eating this twice a day or more, this mounts up and can cost at least £70 ($117) per week just in chicken.
At the other end of the scale, some of the cheaper diet options include the Alkaline and Vegetarian diets. Being Vegetarian is usually viewed as a matter of ethics; giving up meat and fish (unless Pescatarian) signals a protest against the inhumane methods used to slaughter animals. However, increasing numbers of dieters are turning to a vegetarian regime to lose weight. The lack of fatty meats and increased consumption of vegetables results in a naturally lower calorie diet with a lower cost, with an average vegetarian meal costing just £1.40 ($2.34). The lesser-known Alkaline diet aims to cut out foods which produce excessive amounts of acid in the body; coffee, red meat, dairy and alcohol all contribute to the production of acid in the stomach, which can then be turned into fat. This diet only costs £1.75 ($2.92) on average per meal, however, the diet itself is mostly pointless and an example of one of the many fads designed to hook dieters in through medical jargon and reasoning. The body should regulate its acid levels itself as part of a regular, balanced diet.
The cheaper diets tend to involve foods which you can bulk buy. Vegetables, for example, don't need to be expensive. Frozen veg tends to be of an adequate quality, can be extremely cheap and results in less waste as they won't rot while they're frozen. Wholegrain pasta, eggs and rice are also reasonably priced and can be bought in mass.
102938214279518998423