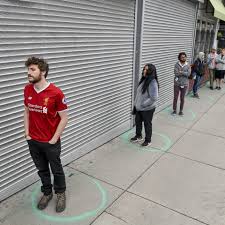 CDC and health officials in the CONUS work to slow down the spread of COVID-19, they've asked all citizens to do one important thing: Practice social distancing.
Our chiropractic office is closed till April 10th per government regulations. Schools are closed as well. Workers are staying at home. Bars are shuttered and restaurants are offering take-out and delivery service only. Sporting events, concerts and festivals have been canceled. Airlines fly domestic flights and no international flights are expected to come in any time soon. That means less money for travel industry.
Life without its interaction can be trying, but public health experts insist that each person's commitment to social distancing is key to taming the new coronavirus – and ultimately saving lives. Here's a closer look at how to do it right.
– What is social distancing?
It's a fancy way of saying you're avoiding close contact with others. That is exactly what we are trying to avoid at our chiropractic office. That means no mass gatherings or any other meet-ups in places where people may congregate. If you absolutely must be out in public, maintain a 6-foot radius of personal space. That would not be possible, as chiropractic adjustment requires very close contact. In addition everyone is sharing the adjusting tables. Virus can stay alive in the air up to 3 hours and on the surfaces up to 72 hours.
– Why do I need to do it?
It's too late to keep the coronavirus from freely spreading within the U.S. But social distancing can slow it down by giving it fewer opportunities to jump from person to person. Our office is doing our part in this pandemic situation. No one will die of lower back or subluxation within few weeks of time but people certainly can if they get COVID19.
– Why is social distancing so effective?
Scientists estimate that one person infected with the new coronavirus will infect another 3.3 people, on average. The higher that number (known as the reproductive number), the faster COVID19 spreads.
Several factors influence the reproductive number, including how contagious the virus is, how susceptible people are, how many times people interact with each other, and how long those interactions last. Social distancing aims to reduce the last two items on that list, which would in turn reduce the reproductive number and slow a disease's spread.
– How is social distancing different from self-quarantine and self-isolation?
Self-quarantine and self-isolation are specific forms of social distancing.
Self-quarantine is when you feel fine but separate yourself from others because there's a high chance you've been exposed to a disease. Self-isolation is when you may have symptoms and don't want to get other people sick. In the case of COVID-19, both are supposed to last about 14 days, enough time for any potential symptoms to manifest in an environment where the virus can't infect other people.
– OK, so how do I do this?
If you can work from home, do so. Don't gather in shared public spaces or at public events, like gyms, restaurants, festivals or concerts. Avoid cruises and non-essential travel, particularly if you're at higher risk of getting very sick from the disease, the Centers for Disease Control and Prevention says. That is fairly easy to do now because most of these business are closed.
If you need to get prepared food, don't eat in – grab your grub from the takeout window or have it delivered. Speaking of deliveries, ask for them to be left at the door to minimize the risk to you and the delivery person. This is certainly not protecting you 100% as people who deliver or prepare food could be infected. The best option is to buy your own groceries and cook food at home. This way you will eliminate exposure of your food to those who prepare it. You can certainly make your own meal much healthier with better ingredients.
When you go to the store for groceries or other essentials, try to go during off-peak hours. While you're there, maintain a 6-foot distance between yourself and other people. That will lessen the chance that you'll catch the virus from droplets spread through the air by coughing or sneezing. Also, be sure to clean shared surfaces before and after you come into contact with them. Gloves and masks are essentials during grocery shopping.
– So I can't leave my house at all?
You can leave your house, just minimize your interactions with other people. Instead of heading to the gym, go for a run, a hike or a bike ride, or work out at home if you have the space. If you have dogs, take them for a walk. Vitamin D is one of the essentials vitamins to boost your immune system along with Vitamin A and E – these are fat soluble vitamins. Water soluble vitamin C can be taken daily to boost your immune system as well.
Be safe, Dr. Burt