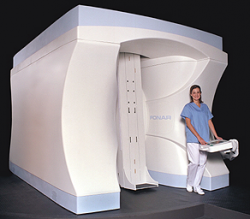 East Bay Upright MRI has acquired a coil that take a full image of the entire upright spine – it takes only eight minutes to complete this process. This radiation free evaluation can also monitor the success of treatment provided by a Doctor. The only way that evaluation of scoliosis can be accurate is when the patient is in upright position. Conventional, recumbent MRI machines can not deliver necessary results. This radiation-free application can be performed in the same amount of time and at the same cost as diagnosis and monitoring by X-RAY. Coil MRI sees curvature of  the vertebrae and the soft tissue as well. There are sagital and axial views of the entire spine – with no radiation exposure whatsoever. The 3 plane visualizations are achieved by 3D acquisition with curved multi planar reconstruction. Both Cobb angles and angular rotation of the vertebrae are measured, including the spinal cord, intervertebral discs, nerve roots and spinal ligaments. The National Cancer Institute reported a study in 2000 of 5466 women that demonstrated with scoliosis experienced a 70% greater risk of developing breast cancer that resulted from their protracted exposure to diagnostic X-RAY.
This is what a practicing neurosurgeon, Dr. Joseph Afertzon, M.D. has to say about this technology: "This technology offers unique advantages in scoliosis imaging. It can show dynamic properties of the scoliotic curve in lateral bending. It is also becoming a unique tool in screening and following pediatric patients with scoliosis. It offers precise three dimensional data preferable to regular x-ray and saves our young patients from significant radiation exposure caused by numerous follow-up X-RAYS."
Multi positional Technology MRI benefits
Patients are scanned upright in weight-bearing positions, in positions of pain or other symptom, and positions of flexion, extension, lateral bending and rotation. This is made possible by the upright MRU's unique configuration that includes a spacious vertical gap.
A seat can be attached to the bed so patients can be scanned in an upright seated position.
The bed rotates from upright to horizontal so patients can also be scanned recumbent.
Recumbent-only MRI can underestimate the maximum degree of the pathology and miss its dynamics nature
Large patients can be scanned. The is rated for up to 500 pounds
Patients that can not lie down can be scanned, such a patient wit severe kyphosis.
There is unparallel patient comfort because there is nothing in front of the patient's face except for a 42-inch flat-screen television
Question: What is your opinion about Upright MRI? Please leave your feedback in a comment section.