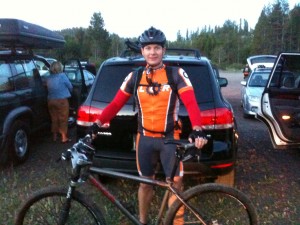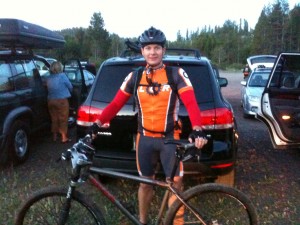 Tahoe Sierra 100 miles MTB Race – 2012
One does not realize the level of difficulty of  TS – 100 till  the course is pedaled and hiked to the point where your body and mind has nothing left – Eduard Burt, D.C. 
I will remember July 14th, 2012 for as long as I live. That was the day that I was mentally and physically preparing myself for sometime – endurance riding several times a week, which included single speed and geared mountain biking as well road riding with climbs to a summit of Mount Diablo and Hamilton. During lunch I have added 1K swimming session, which were supposed to strengthen my upper body as well as increase my endurance level. My past racing experience was taken into consideration and certainly has provided a decent level of confidence for a technical part of the Tahoe Sierra 100 course.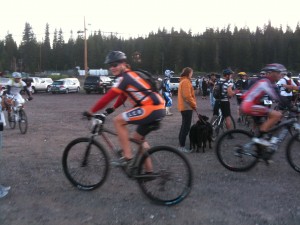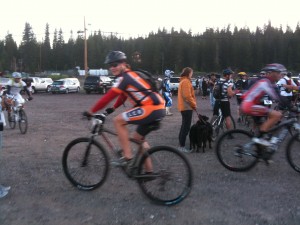 Since every racer was given 15 hours to complete the course, I knew it was going to be a long ride and would require at least a day to recover before going back home. This time around I had my family coming with me to stay at Donner Lake Village.  Perfect combination for my wife and  son to stay at a beautiful lake and sandy beach and me being only 7 mile away from where the race began.
All of our belongings were packed on Thursday night and all I had to do was to hook my 29er on top of my SUV on Friday and we were good to go.
We have left around 2pm on Friday and we had to get to Soda Springs before 8pm to pick up a racing package. Timing looked good, as by GPS mark we were supposed to be there in three and a half hours. However, Sacramento Friday evening traffic was not taken into consideration and it took us over five hours to get there.
Upon arrival I got a chance to personally meet Jim Northey who has organized this race. He went over the course on a map with me and another guy who was doing 100 miler. The names of the Aid Stations all got mixed up in my head because he went over the course way too quick for someone who just drove for 5,5 hours none stop. But I have come prepared. A night before I have printed out a sheet with cut off times for all Aid Stations. If the rider does not get there within a certain period of time he or she will be pulled out of the race and be driven to a finish line.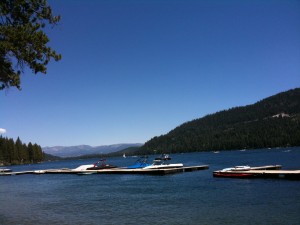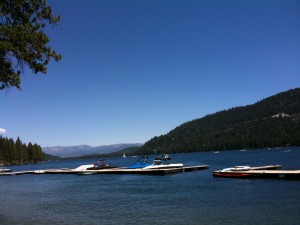 Our hotel was only 7 miles away from where I have met Jim and picked up racing package. We have taken  Donner  Pass Road. This route opens up a magnificent view of a Donner Lake from the top of the mountain. That five hours drive was worth just for this view. The check in process at the resort was quick. We unloaded our belongings had some dinner, watched a bit of  TV and off to bed. I have set up my alarm for 4 AM. An hour to get ready, half an hour to get to a start line and half an hour for instructions before the race.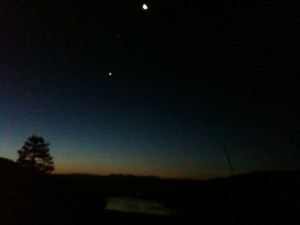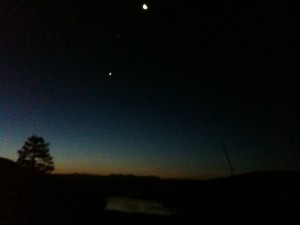 At 5 AM following morning I was inside of my vehicle driving through the same pass in the opposite direction. The dark sky was full of shining stars and the moon was very bright. This beautiful night sky was the indication that the day was going to be very hot.
I was one of the first arrivals on a parking lot. Within minutes the lot was full of cars and eager racers. Jim briefed us before the race and wished us all good luck.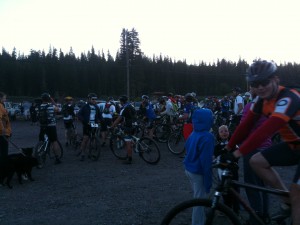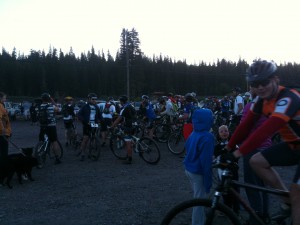 At 6AM hundreds of pairs of legs began their long and painful journey to a finish line. Since it was an endurance race the pace was very slow and steady. People were talking to each other and making jokes till the first steep climb. All you could hear then shifting of the gears and deep breaths.
I have never been on this course before and I did not know what to expect. I was maneuvering the first down hill really carefully just to make sure I don't crash in the beginning. Jim warned us that that section has a lot of potholes. On a fifth mile of my race my chain got sucked in and I was not able to get it back out to a chain ring and chain stay. I had to open a lock on my brand new 10 speed Wipperman chain. I was very happy that the chain lock easily gave in and I was able to pull the entire chain out. Suddenly I have realized that the other half of the lock link was missing and I almost had a heart attack. I looked around and found it sticking out of the dirt. I have sealed the chain back into the derailers, locked it, and lubed it really quick and was back on a trail. I lost at least 10 minutes there. Many riders have passed me and I caught up with a few who eventually took the wrong turn and ended up making extra 3 miles and we all lost at least 20 minutes there trying to figure out our way out. Less than 2 hours into the race and I have lost 30 minutes on things that were not supposed to happen so soon into the race. I was looking at the cut off time of the first Aid Station and it did not look good. I hammered as hard as I could to make it there on time. The first Aid Station was Lyon Ridge, which was 14 miles away from a start line. I have made it there and got a cushion for the next Station which was a Redstar Ridge, 24 miles away from a start point. I have made it there relatively quick as terrain was not very technical. At that point I have passed two aid stations without stopping for a brake and 25% of the distance had been covered. I have passed Dustry corner in less than 3 hours of riding time and I was given 4,5 hours to accomplish it. So far timing looked good and I was very optimistic about finishing this long and painful journey. My next destination was MadCat/Road 43 Aid Station. The technical part of the course just kicked in and at some points I had to get off the bike and hike as I was saving my legs for the rest of the course. I was supposed to be at MadCat/Road 43 Aid Station  in 7 hours and I made it there in a little over 5 hours. Official 39 miles into the race, and 42 miles for me.  By the time I got into the MadCat/Road 43 Aid Station I could feel that my legs began cramping and the last miles toward this Aid Station I was going really slow. 42 miles mark into the race was the first rest stop for me. I had to refill my camel bag, eat some food, take an extra layer of clothing off that was overheating me from time to time and take some endurolyte pills in order to stop cramping. The crew was very friendly. They picked up my bike, cleaned and lubed my chain and tensioned handle bar bolts. In 5 or 10 minutes I was back on a trail pushing my way through against the clock. The cut off time was on my mind.
My next stop was Dusty Corner Aid Station. It is 52 miles from and official start line and about 55 miles for me and I was given 8, 5 hours to get there counting from a starting line. This time around pain really kicked in. A mile after my last rest stop both of my inner thigh muscles cramped on me completely and I had to stop for a couple of minutes and wait till endurolyte salt kicked in. The air temperature was rising every hour and I believe it has reached 98F that day. The journey to Dusty Corner Aid Station was very technical single track and steep. At some point I was under impression that the bike was going to go off the cliff as the trail got supper narrow with an endless drop down to nowhere. Yes, I was scared for sure. Will not look down next time – LOL. Some sections were not ride able at all and I had to hike a bike over loose rocks and dirt. The last couple of miles towards Dusty Corner Aid Station my body really began to feel the pain. I made it to Dusty Corner Aid Station in about 7,5 hours and I had about an hour of cushion to get to Deadwood Aid Station (65miles mark)  and 50 more miles to go and close to 10000ft of climbing. When I got to my next rest stop most of the supplies were gone because previous riders just vaporized them. I found a watermelon and literally shoved it down my throat and I remember I drank a lot of water. I took some of the GU packs with me and I used 3 of them at this rest stop. Again these guys were very nice. They lubed and cleaned the chain on my bike and they told me that the most difficult part of the course is ahead of me. These 50 miles were super hard but what was coming was beyond my expectation.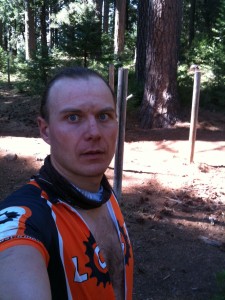 My next destination was Deadwood Aid Station. I have slowly gained a momentum on a big fire road. About half a mile into my ride I had to turn left into a single track. That was the most technical, steep and with numerous switchbacks single track that I have ever taken. My hands were burning after this steep descent. The reward at the bottom of this trail was a beautiful view of the river and fresh air that was cooled down by the running river. I took a minute to get my senses back before I could continue to a hike a bike section. Many riders knew about the hike a bike section. But few have realized what that really meant. We are talking about super steep climb with loose rocks and dirt with a bike in your hand. Short hike with almost 2000 ft of elevation gain. This what seemed to be never ending hike took almost everything out of me. As I was pushing forward on this steep climb I have realized that I was moving way too slow to make it to a cut off time. I was literally pushing the endurance limits of my body. When I got to a Deadwood Aid Station the elapsed time was 10 hours and 10 minutes with 65 miles covered and 9000ft of climbing. I was not allowed to push forward with this race according to the rules of this race. At this point my legs were done. I really did not have much left in me anyway. Assuming I did not loose 30 minutes in the beginning of the race the maximum I was able to do would be may be another ten miles of riding. Below is a self portrait at Deadwood Aid Station – I look possessed. The photo above was the expression of pain and exhaustion on 07/14/2012 after 10 hours and 10 minutes of riding. Here is my GPS STRAVA data for my ride. My suffer score is something I have never seen before even after 100 miles road rides.
This is my new personal record for a distance and climb on a mountain bike. I have really pushed my limits on TS –100. I was extremely happy with what I have accomplished so far as it was the most difficult endurance mountain bike race in Northern America. I am coming back next year to accomplish my mission. My goal is to cross a finishing line next year and concur Tahoe Sierra 100 miles race. Kudos to all of the participants, who were able to cross the finish line.
I will be back for 2013 TS –100 race.
If you have anything to add to this post, please feel free to Post a comment or share your thoughts through Facebook, Twitter, Google+ or comment section below to join the conversation.
About Dr. Burt
Dr. Burt