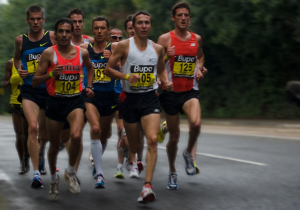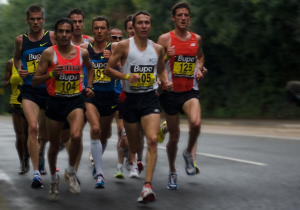 This is a recap story written by Christie Aschwanden in Runner's World. I will try to use a lighter language for a better reading digestion.
Stephanie Ehret won a 24-hours track run with an excellent timing. However, she was celebrating her victory in Phoenix E.R., constantly vomiting unknown substance.  Stephanie was nauseous, had fever and she had feeling at that moment that these were the last moments of her life. Doctors have diagnosed her with – rhabdomylysis, which is a potentially deadly precursor to kidney failure. Part of this diagnosis was severe dehydration after the race. After all, it was not 2 or 3 hours race it was 24 hours. In addition to the strenuous demand on a system, Stephanie has taken 12 ibuprofen pills, which were the result of her being in E.R.
Proper dosage of OTC (over-the-counter) pain medication can be helpful to a runner who had fresh sprain/strain of an ankle. Tylenol can reduce the pain and NSAIDs like ibuprofen, aspirin, and naproxen can reduce swelling during acute stage of healing. Stephanie Ehret treated this Ibuprofen like "vitamin I", not realizing the side effects of its usage during intense competitive run. Experts confirmed that taking ibuprofen even during 10K run could be extremely dangerous. NSAIDs inhibit prostaglandins; it is a hormone that helps normalize blood flow to the kidneys. When you combine the effect of NSAIDs, competitive run and dehydration, kidneys would be the first organ to feel the overload.
NSAIDs will raise a blood pressure, and when we combine it with usual increase of blood pressure during cardiovascular exercise, all of sudden a person has two things that increase blood pressure. An individual with already increased blood pressure can have a risk of a heart attack. The reason for this heart attack is that NSAIDs inhibit the function of an enzyme called cyclooxygenase (COX) that protects the heart. COX also protects the stomach lining from digestive acids. Individuals whose COX is blocked could experience nausea, diarrhea, intestinal bleeding and cramps. COX inhibition could also be the cause of electrolyte imbalance during marathon. Study proves that increased dosage of ibuprofen during race does not reduce inflammation or pain tolerance. In a contrary, runners who use this ibuprofen had more inflammation at the end of the race. Also takers and none takers of ibuprofen did not notice increase or reduction in amount of pain during the race.
Pain and inflammation is a warning sign that our body communicates to us that there is something wrong the part of the body that is hurting. Pain and inflammation are just the symptoms. An individual must find the cause of this problem. Taking NSAIDs or OTC pain medications is not a solution to a problem. One must address the total biomechanical and musculoskeletal component of the body before competing on races of such level. Body is just like a vehicle, it needs a constant maintenance. However, many fail to maintain their bodies. Two good posts come to mind that I have written in the past: Chiropractic Rehabilitation and 4 Stages of Soft Tissue Healing and 13 Facts of Chiropractic and Wellness Care. Every serious athlete must treat their bodies with respect.
Since her last misery, Stepahnie Ehret shares her experience with other racers. If she sees them downing vitamin I, she tells them about her ER visit. "That's usually enough to change their habits," she says.
Image provided by Sheffield Tiger
Have you had a similar experience or known somebody who has?  Will this article make you reconsider your own health choices?  Post a comment below or share your thoughts through Facebook, Twitter or comment section below to join the conversation.