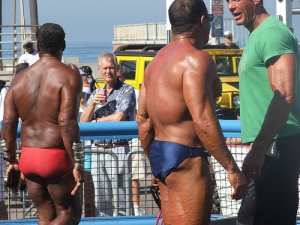 Most people who go to the gym or trains are paying close attention to their body's stability, structure and alignment. They focus more on flattening their stomach to get that 6-pack abs they've been dreaming of and with toning their legs and arms and improving their performance on their sport. It's not cool to have all these but suffer from all sorts of pain, such as back pain, or suffer from an injury as caused by imbalanced muscles. Many people don't exercise their stabilizer muscles and they end up with injuries because of an imbalance with their muscle group.
Our muscles have two types and they are the stabilizer muscles and the movers. The mover muscles are those that we use to create movement while the stabilizers are there to stabilize our joints & spine as we move. Stabilizer muscles are important and functions by controlling our extra movement and limits it to the point that we don't damage our body. Movers may be the most prominent muscle type but without the help of the stabilizer muscles then it's going to cause a big problem. If there is too much movement without stabilization can cause the spine and joints to degenerate and have poor biomechanics. Wear and tear is greatly reduced if the stabilizer muscles are strong. Stabilizer muscles also reduce energy waste as muscles get to work more efficiently. That means you get a better balance and coordination as well as speed and power.
Core stabilizer muscles are those that are responsible for the spinal stabilization. Core stability is the way of contracting the back muscles and the deeper muscles of the abdomen. This is your powerhouse muscle and if this is strong and stable then you prevent injuries that can lead to back pain. If this is strong your posture is also corrected.
The gluteus maximus and gluteus medius are the muscles that stabilize the hip and knee joints. If these are stable, knee injuries can be prevented. Iliotibial band syndrome and other knee injuries and pain are results of weak hip stabilizers. The stabilizers of the knee joint are mostly made up of ligaments instead of muscles but the hamstring and quadriceps are there to help in stabilizing the joints of the knees.
The most mobile joint in our body are the shoulder joints thus it requires a lot of stability in order for it to function well and to avoid any type of shoulder injury. The rotator cuff muscles are the main stabilizers and they are the ones responsible for holding the ball joints against its socket as we move our shoulders. Soft tissue injuries can be the effect of poor performing rotator cuff muscles. Scapula muscles, those that are attached to the shoulder blades are also important for stabilizing the joints of the shoulders and are important for shoulder injury prevention.
If you have anything to add to this post, please feel free to Post a comment or share your thoughts through Facebook, Twitter or comment section below to join the conversation.