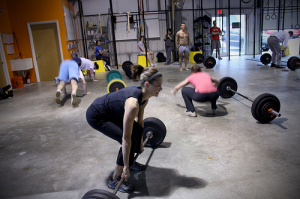 Working out at the gym regularly helps our body to achieve proper fitness and health, but in few instance it can also become a source of soft tissue injury especially if you work out recklessly without following certain guidelines to prepare your body for the strenuous workout ahead. Here are some injury prevention tips one should follow in order to avoid suffering injuries while working out at the gym.
Start slowly: Many people tend to push themselves at the onset of their workout. They start fast immediately by lifting heavier weights in order to speed up their muscle improvement, little do they know that starting quick will create an imbalance to the development of the muscles. It is required to start off slow and let the rhythm of your workout increase at a slow pace until your body gets accustomed to the workout you're doing. Tissues and muscles need to adjust to any heightened physical activity thus the need for a slow progression of the level of working out in a gym.
Proper Warm Up and Stretching: warming up the body muscles and tissue through a proper stretching is important and should be done prior every workout in the gym. The purpose of warming up and stretching is to prepared the body and increase its temperature so it won't produce a shock once the actual work out is practiced. Skipping this will result into serious injury to your bones, muscles and other tissues.
Regulated diet based on fitness progress: when an individual goes through a consistent work out at the gym, they also raise their energy level through the increased intensity of their workout regimen. This produces a change in the energy requirement as well, which begs the question of what are the proper diet needed to boost energy brought upon by the increased workout. One should be mindful about the food they eat during these moments, it is important to eat foods that are rich in protein, minerals and vitamins and supplement basic nutrients to keep your body at pace with the ever increasing activity by absorbing more energy from a proper diet. Vegetables, white meat, beans, carrots, fruits and protein shake (affl. link) are just some of the kinds of foods that should be included in your diet.
Keep hydrated at all times: a dehydrated body attracts all sorts on bone and muscle injuries as it becomes less elastic. Hence, the need for more water in the body. Make sure to drink at least 8-10 glasses of water each day. Minimize the intake of coffee and alcohol if one cannot totally avoid it. Make sure to have a bottle of water handy when working out, this will replace fluids in your body that are sweated out during workouts.
Maintain correct posture and balance: most injuries are sustained when an individual continues to put a strain into the body by positioning themselves incorrectly during workouts. It is important to learn the proper posture and balance while lifting weights to avoid strain into the neck, knee, elbow and other body parts. Improper lifting of weights will result to back pains. Hire a personal trainer to teach you the proper posture and balance while working out.
These tips will help you experience a productive time working out at a gym and also helps you avoid unnecessary injuries.
Please feel free to Post a comment or share your thoughts through Facebook, Twitter or comment section below to join the conversation.