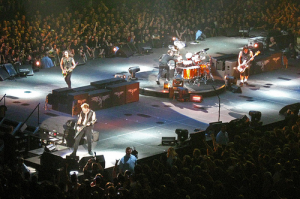 I have come across a very interesting article in "The American Chiropractor" written by Dr. Don Oyao, who is a chiropractor from Australia.  He is a six –time Official Olympic Team Doctor in Seoul 1988, Barcelona 1992, Lillihammer 1994, Atlanta 1996, Sydney 2000 and Beijing 2008. He now works as Metallica's touring band chiropractor and one of their biggest fans.
Dr. Oyao compares Rock Stars to Athletes. He stated that both Rock Stars and Athletes require tremendous amount of energy in a short period of time. In order to achieve this amount of energy, an uninterrupted flow of nervous system and balanced musculoskeletal system is required. He has been providing chiropractic care to four members of Metallica's band for the past nine years, which equals to more than one thousands tour concerts. James Hetfield, Robert Trujillo, Lars Ulrich and Kirk Hammet are all get deep tissue work done, chiropractic adjustments and simple rub downs between the songs. Their aging bodies require constant care for a demanding performance on a stage in front of many thousand of fans. By the way I am one of them and my favorite is "Master of Puppets" – still get an adrenaline rush when I listen to it.
It is amazing to see that Metallica's members places priority on their healthy habits. Each band member must individually maintain cardio-vascular endurance, and exercise and stretching regime as well as balanced diet and nutrition. Players must be at peak performance physically and mentally at all times, due to intense tour schedule and high energy performance on the stage. Robert Trujillo requires attention to his guitar-strumming arm and its speed-demon finger, even between songs backstage.
Dr. Oyao says that Metallica brings a harmony to their fans as the band roams the jungle of a world filled with chaos and insanity. Helping Metallica bring their music to the world has been his own rock and roll dream come true. For him it has been a privilege to work and tour around the world living in the mad, mad world of Metallica.
If you have anything to add to this post, please feel free to Post a comment or share your thoughts through Facebook, Twitter or comment section below to join the conversation.