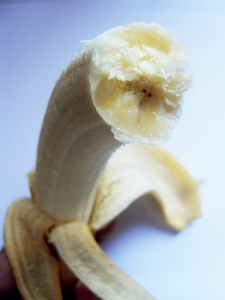 Bananas are among the healthiest fruit in the world today. It contains three natural sugars; fructose, glucose and sucrose combined with fiber. This fruit is the popular choice among active individuals as it provides a sustained, long lasting energy boost to last the day. Studies have shown that eating a medium sized banana can provide enough energy to help you last through a daunting 90 minute workout. No wonder that this fruit has become the staple energy food among the world's best conditioned athletes.
Providing energy boost isn't the only way it helps the body. It is also a leading combatant of a number of conditions and illnesses making it an important to include banana as part of our everyday meals. It contains
tryptophan
, a type of protein that the body converts into
serotonin
, a chemical compound that improves the mood of an individual by making it prone to relaxation generally making the individual feel happier and light.
Banana not only power up the body it also helps combat a number of conditions making it among the leading health food in the world. Here are just some conditions that this magic fruit helps stave off:
PMS
– Women should grab a bite of banana when having their monthly period. The
vitamin B6
content helps regulate blood glucose level making the mood feel lighter and relaxed.
Anemia
– Having high levels of iron, a banana helps stimulate the hemoglobin production in the blood helping a person stop the occurrence of anemia on its tracks.
Blood Pressure
: High in potassium yet low in salt are what makes bananas perfect to offset a high blood pressure. The US Food and Drug Administration recently allowed the banana industry to issue official statements claiming that banana has the ability to reduce the risk of stroke and high blood pressure.
Constipation
: Rich in fiber, a diet that includes daily consumption of bananas helps restore normal bowel movement thus helping the body overcome constipation.
Heartburn
: Bananas produces high natural antacids in the body that reduces the occurrence of heartburn and helps stop it by providing a soothing relief to this condition.
These are just some of the conditions that bananas helps to combat, other less serious conditions such as mosquito bites, wherein a banana can help by using it as in lieu of insect bite cream. By rubbing the inside of the banana skin on the affected skin will reduce irritation and swelling. Nerves are also calmed by bananas because of its high vitamin B content.
Bananas are not only helpful in fighting off serious body conditions; it is also eaten as a means of prevention from such life threatening conditions such as a stroke. According to the New England Medical Journal, constant eating of bananas reduces the risk of an individual suffering from a stroke by a whopping 40%.
Living a healthy life is important in order to live a less hassle and happy life. By eating healthy foods we also encourage a clean way of living and bananas are included in the forefront of the campaign for a healthy lifestyle. Getting to know bananas as an important part of the battle against serious and life threatening conditions is a start on the right direction.
If you have anything to add to this post, please feel free to Post a comment or share your thoughts through Facebook, Twitter or comment section below to join the conversation.