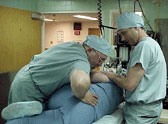 There are thousands of people in the United States and Abroad who suffer from a chronic pain daily. They are tired of taking pain medications and yet they are not surgical candidates, or still have pain after the surgery that have already had. The good news for all those patients who suffer from pain and lack of mobility is that there is a non surgical solution to this problem. It is a simple and painless procedure that is offering a pain relief and restores range of motion. Manipulation Under Anesthesia also known as MUA is the solution to the problems to many neck, low back and shoulder chronic pain sufferers.
MUA is the procedure where manipulation of the spine or shoulder is performed in a surgical center under sedation. This procedure is one of the most effective methods of altering chronic pain conditions where chiropractors work together with medical doctors in order to achieve the best results possible. The techniques used in manipulation under anesthesia (MUA) have been described as low-velocity/high-amplitude in contrast to the usual chiropractic adjustment which is most commonly described as a high-velocity/low-amplitude thrust or "impulse." The purpose of high-velocity technique is to overcome the conscious patient's protective reflex mechanism which would prevent the separation and movement of the joints. In a joint manipulation, the articulation is moved through its entire passive range of motion and past the elastic barrier and into the paraphysiological space where joint cavitation occurs. Cavitation of the joint is an audible "report" signifying that the articulation has been distracted sufficiently to affect the physiology and function of that synovial joint.
What is Sciatica?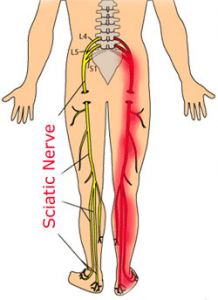 Sciatica is not a medical condition in itself but rather a symptom of other medical problems. It refers to the pain, numbness, tingling or weakness felt in the legs as an effect of compression or injury of the sciatic nerve.
The pain is usually felt in the buttocks, lower back or at various parts of the patient's leg including the foot. The pain is usually severe combined with weakness of the muscles as well as numbness and tingling sensation. This condition is usually felt only on one side of the patient's body. [Read more…]