Please follow and like us: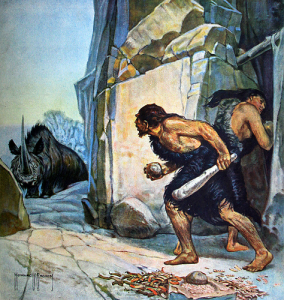 I have never been a big fan of any special diet. My health philosophy is simple – eat the same or less amount of calories that your body needs, regular exercises at least 3 times a week (cardio a must) and an adequate amount of rest (sleep is your weapon). Diets are just like fashions – the come and they go. They will arrive to our lives with a new twist, so people who promote them can sell the followers new books, recipes of the same meals with different names and so on. No matter how you look at the food and a new "super diet" at the end it all fall to three main ingredients: carbohydrates, fats and proteins. It is just a matter of combining the ingredients together in different proportions which provides a great variety of choices for a creation of a new diet.
The reason why I began to write this post is because I see so many disgusting photos of so to speak Paleo diet on Google Plus stream that people actually put it inside of their mouth and call it a healthy meal. Personally my eyes can not even look some of the photos. If I would have to eat that meal, all of my vital organ would have to shut down slowly one after another. I think fashion diet just overtakes normal common sense in every follower. Many want to look and feel good but lack the basic understanding of the physiology of a human body and nutrition. The Paleo diet was popularized by Walter Voegtlin in the 1970's and is very similar to Atkins and Meat Lovers diets – which were very popular about 10 years ago or so.
Please follow and like us: