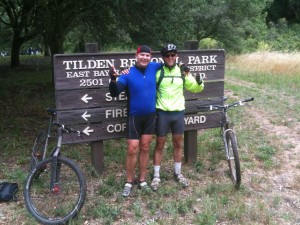 I have been an avid mountain bike rider for over a decade now, pretty much ever since I have moved to a beautiful San Francisco Bay Area. Over the last couple of years I have changed my full suspension mountain bike with gears and small 26 inch wheels to a hard tail 29 inch single speed bike. I have willingly sacrificed the comfort of a mountain bike ride in exchange for a speed and aggressiveness of a Titanium 29er single speed bike. I simply adore the simplicity of a single speed bicycle, no dureilers to brake, no shifting problems, and no worrying that you are in a wrong gear. It is simple, reliable – it is you, bike and the trails that you are trying to concur.
I have always wanted to check my limits and see if I can cover 50 miles distance in one gear. My goal was accomplished couple of weeks ago. Over 7000 ft of elevation in one gear 32 teeth in a front and 19 teeth on a back which equals to a 49% gear ratio. For a rider who is six feet and two inches tall and weights over 200 lbs that was not an easy task. Mental and physical preparation was essential for this ride. A large section of the ride was on a territory that has never been ridden by me and my riding partner, Robert, who has joined me on this long and painful journey. Robert had the same gear ratio as my bike.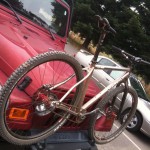 My bike set up: Single Speed specific  Titanium Frame with Niner carbon fiber fork, niner handle bar, XX avid brake set, selle italias saddle with Easton carbon seat post, race face SIXC crankset with 32t Salsa Chainring, Stans Flow Rims laced into Industry Nine hubs and Schwalbe tubeless tires.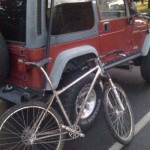 Robert bike: Legendary Voodoo Zaka Titanium frame with Reba SL 100mm Suspension Fork, 28" FSA handle bar, with Shimano XT brake set, Moots seat post with Brooks B17 Saddle, SUN rims with racing Hadley Single Speed specific rear hub, white industry crank set with 32t  chain ring.
We began our journey from Robert's House which is about one mile away from Lake Chabot trail. The first 17 miles were the trails that connect Castro Valley Lake Chabot trails to Oakland trails all the way to the end of the East Ridge. On a 17th mile of our journey we had to take a single track all the way to Tilden Park which is in Berkeley Hills right next to mini Steam Train that adults and kids can ride for $2 for about 7-10 minutes of ride.
We were expecting to see many hikers on a single track but to our surprise only few people were on that long stretch of the trail. The trails in Oakland and Berkeley Hills are very unique in their flora and fauna. I have never seen plants like that anywhere else in Bay Area. At times it seemed that were riding in a Rain Forest. There was way too many things to look at, but we had to concentrate on a riding part of it. Some sections were so steep and wet that we had to hike them with our bikes. It was simply impossible to ride those monsters in one gear. About two miles before we got to our return point which is Tilden Park we saw huge wild plumb tree with the sweetest plumbs I have ever tasted. May be because we were so low on sugar and were ready to eat grass at that point. It was a really nice gift from a mother nature. At that point more than half of our food supply was gone.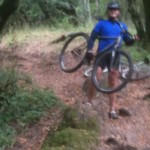 By the time we got to Tilden Park the first mechanical brake down happened on my bike.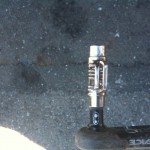 The spring on my egg beater pedal on a drive side broke down. I was still able to continue the journey on a way back but at a slower pace than I have expected. When spring collapsed I was not able to clip in with my shoes and therefore use my hamstring muscles to pull up the cranks. On a 47th mile of our journey my none drive side pedal broke in half.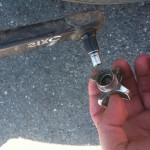 Now I can not pull on both sides and can not push on a none drive side. Basically I was left with only one working leg. I am glad it almost happened at the end of the ride. Somehow I was able to make it to my Jeep and was very happy about being able to finish this trip in one piece.
Every once in a while one must take him or herself out of the comfort zone and test the limits. It does not have to be a mountain bike, it could be any other sport activity that you are enjoying. Happy trail everyone.