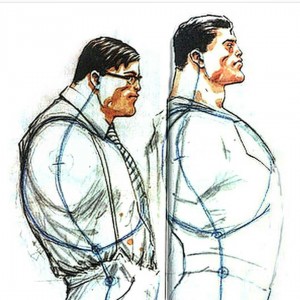 How we stand has a great deal to do with many areas of our lives. Not only does it make us look less confident, standing incorrectly could have serious effects on your spinal health. All of us should take the health of our spine as seriously as we do our heart. Your back is as important as the heart because it houses the spinal cord. The Spinal cord connects the entire body to the brain/central nervous system. An injured or damaged spine means your brain and your body won't be able to communicate properly resulting to either loss/diminished mobility and sensation.
When your posture is bad you risk looking less than well to others like clients or employers since slouching is perceived as insecurity, you are forcing your muscles to work harder, the way your weight will be distributed will cause you excess back pain, and you run the risk of looking heavier, getting heavier, and developing diabetes.
No matter how slight or severe your slouching might be, these tips should help you get on your way to a better posture.
1 – Sleep Position
Are you a stomach sleeper? Did you know this is the worst position you could sleep in where your spine is concerned? If you are a side sleeper this is much better but, honestly, the best position you can sleep in if you want to maintain the natural curvature of your spine is your back.
Back sleepers also tend to have less back pain because, unlike side sleepers who are typically curled up, laying on your back enables your vertebrae to be in their natural position. When you are all curled up it would make sense that your spine curls while you are awake.
If you aren't used to sleeping on your back and want to start, you need a mattress with proper support. At that link you will find a review by The Sleep Judge on mattresses that are specifically designed with sleeping on your back in mind.
2 – Get A Posture Corrector
Posture corrector works great for folks who sit at a desk for longer than 5 hours a day. While you sit there gravity takes over and before you know it your shoulders are slumped over putting extra pressure on your back muscles.
If you have been considering a posture corrector, check out the reviews here. Perfect Posture put together a list of different posture correctors on the market and gave you the low down on each one. This, like buying a mattress, should be researched well before making a purchase to make sure you get the best product to meet your needs.
3 – It's In Your Head
There are quite a few mental practices we could make to our daily life that would help us maintain a great posture throughout the day. One could be to walk with your palms facing your front. While it might not feel natural this minor adjustment will force your shoulders back, which will help keep your spine in it's natural alignment.
You could imagine there is a string coming out of the top of your head. Try it right now. Stand up and imagine a string pulling out of the top of your head. Did you notice that your shoulders moved backward and your spine straightening out? This simple technique works proving that our mind and how we perceive things has great power.
When you are sitting sit with your back against the back of the chair. It should force the spine to straighten out. Also, make sure your feet are firmly grounded on the floor. This will also help your back to feel long and tall. If you are standing do the same thing opposed to moving your weight from one side to the other.
4 – Exercise
When you are.a teenager the doctor may have given you special exercises to straighten your spine but as adults we've done all the growing we can. While exercises won't change any irregularities in an already established spine they can help make the muscles in your back stronger, which will help you obtain the perfect posture.
Yoga has some great back strengthening moves like downward facing dog and weight lifting or circuit machines also have special moves that can help you make the muscles in your back stronger. Before you start any exercise routine make sure to consult your doctor.
5 – See A Chiropractor
Whether you come to us at Burt Chiropractic or find a doctor in your area, there are certain chiropractic techniques that can help you learn to walk taller. This tip is especially important if you are experiencing any type of pain due to your irregular posture.
Some problems are not meant for us to fix on our own and that's what the professionals are here for. So, if your problem is causing you more pain than you can handle, get on the phone and make an appointment today. A bad back can lead to a myriad of other health issues.
Conclusion
Just don't lose hope. Where there is a will, there's a way, as they say. And this motto is no different when it comes to your spine health. Just make sure to consult a professional before making any big decisions and if your pain is affecting your daily life get some help right away.